OUR WORKFORCE AND CULTURE
We are committed to promoting a culture of diversity, inclusion and belonging in which everyone feels valued, respected and engaged as we embrace the unique skills, experiences and talents of our global workforce. This commitment drives us as we evaluate new and effective ways to embed a culture of inclusion and belonging across our business so that it runs through every aspect of the employee experience at Hasbro, ensuring that everyone is supported to fulfill their potential.
Our culture of inclusion is based on three priorities:

We continue to make efforts to improve the diversity of our workforce at all levels and we are committed to our goal to grow ethnically and racially diverse employee representation in the U.S. to 25 percent by 2025. We've also taken several meaningful steps the past few years to help build a stronger, more diverse workforce and address unconscious bias in the hiring process, including the goal of establishing protocols to achieve a 50 percent diverse interview slate for all open positions in the U.S. Additionally, we are proud to have a workforce that is over 50 percent female, and we continue to invest in our female talent to ensure strong representation across all levels of management. We seek to develop and grow leaders in our workplace, including women, through professional skill development, management training and education, and mentoring programs. Hasbro continues to make strides in advancing women in the workplace and we aim to grow women in director and above roles globally across all business areas to 50 percent by 2025.
OUR BRANDS AND INCLUSIVITY
We believe in the power of brands to do good. We seek to create brands and content that embody positive attributes and messages that are embraced by our audiences around the world. By creating meaningful and relevant connections with our brands, we see endless possibilities to reach, include, and celebrate people of all backgrounds. We aspire to provide play and story experiences for children which encourage them to be who they are and all they can be. We are actively moving beyond traditional gender and demographic stereotypes across our brand portfolio and are engaging more consumers.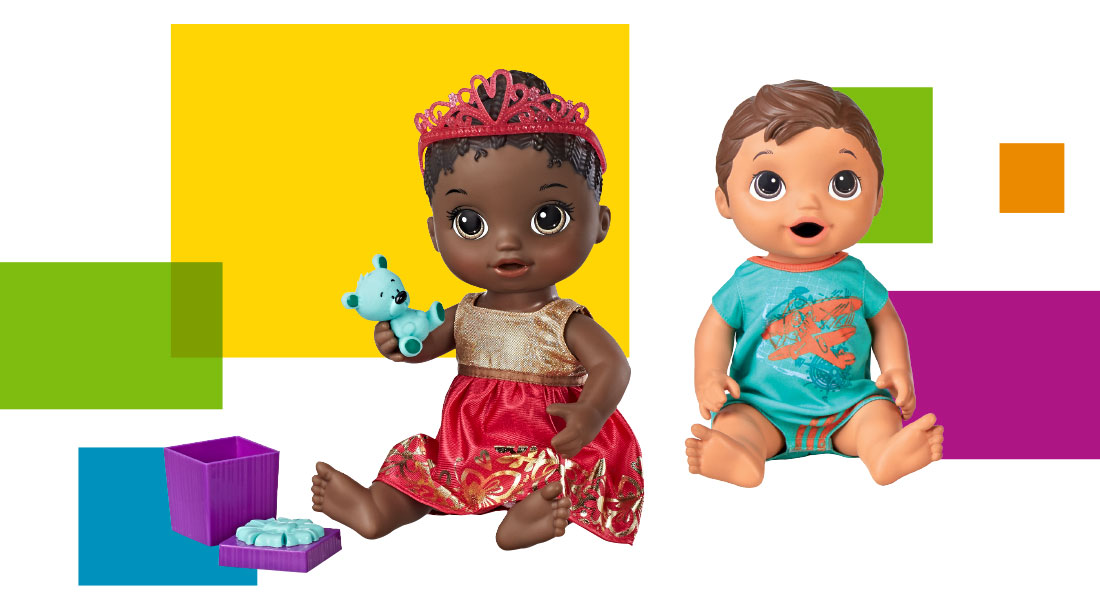 Inclusive Design and Marketing
Inclusivity is embedded within our design process. Annually, our Design and Development organization uses a set of core pillars to inspire our designers and guide our innovation. By prioritizing inclusivity in these pillars, we are encouraging our teams to create experiences that are inherently more expansive and appealing for a broader consumer base. Additionally, we have evolved our marketing to be more inclusive and to reflect the true diversity and differing interests of our consumer base. We are expanding our efforts to include dual-gender marketing campaigns and products that reflect the modern family.
Engaging Our Consumers
Through our consumer insights and analytics, we know that consumers want to play an authorship role in the brands they love. We value their diverse perspectives and empower our fans and consumers to play an active role in creating the future of our brands.
OUR SUPPLY CHAIN WORKERS
We care deeply about the workers in our supply chain and seek to positively impact their lives and well-being. The majority of factory workers in the toy industry are predominantly women, particularly floor production workers. To help support female factory workers in our supply chain, we are evolving our ethical sourcing program to extend beyond social compliance requirements to include professional and personal training and development.