Ensuring social compliance in our supply chain around the world is a continuous process that requires careful monitoring. At Hasbro, our process for ensuring compliance within our factory base includes prequalification, monitoring, oversight, transparency, capacity building, and partnerships.
In 2019, Hasbro launched its Ethical Sourcing Factory Rating System. This tool organizes, tracks and categorizes factory performance in a simple, color-coded snapshot format. The tool helps our vendors understand and track their performance and is tied to follow-up audit timelines. It also strengthens Hasbro's overall vendor scorecards by integrating social compliance as a key performance indicator.

Please see below for our annual Top 10 Critical Audit Findings and Corrective Action rate.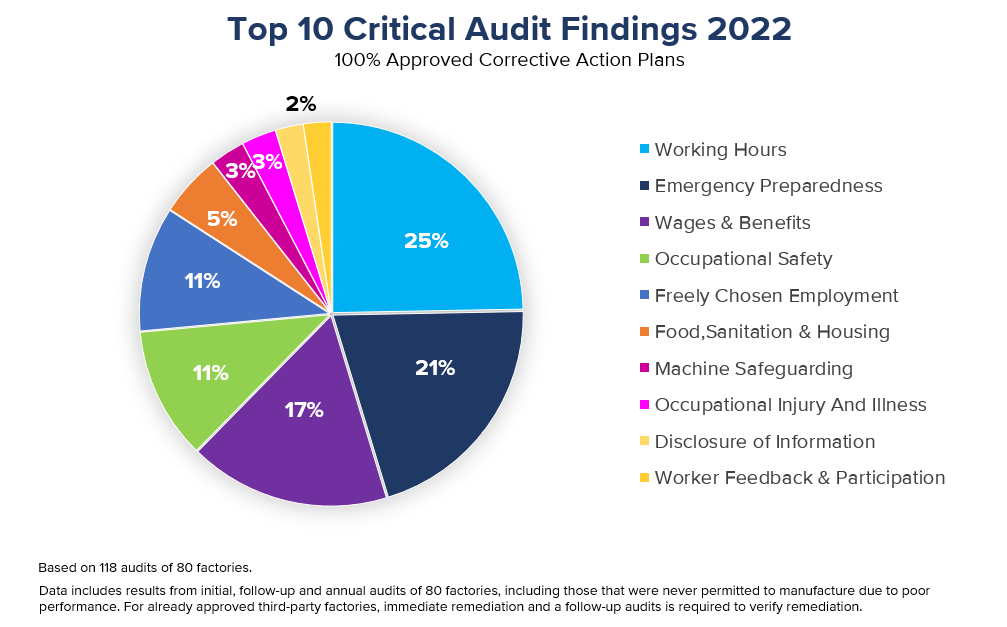 Our Ethical Sourcing program is designed to support our current and expanding sourcing model. We engage directly with Hasbro third-party vendors and licensees to drive social and environmental compliance and require them to do the same within their supply chains, including auditing and monitoring of subcontractors.
As strong as principles may be on paper, shared ownership of principles is the key to sustained, long-term success. Our goal is to empower factory management to take ownership of compliance. To that end, we require ongoing, comprehensive training for our suppliers. 100% of our third-party factory management must complete the Hasbro Ethical Sourcing Academy. The Academy is a 30-hour, e-learning social compliance course that trains and reinforces Hasbro's rigorous ethical sourcing requirements. This mandatory online training is coupled with Hasbro-led in-person vendor workshops hosted in our sourcing office locations around the world. We also provide in-person education and training for Hasbro team members who work closely with our suppliers, including our local sourcing, quality assurance and global security teams.
For a full list of Hasbro vendors and third-party factories, see our 2022 list.