October 17, 2016
Hasbro offsets 100 percent of U.S. energy consumption, reduces global carbon footprint
Pawtucket, R.I. – Advancing its commitment to sustainability and renewable energy, global play and entertainment company Hasbro, Inc. [NASDAQ: HAS] announced today that it has offset 100 percent of its U.S. energy consumption and reduces global carbon footprint.
Hasbro purchased carbon offsets equivalent to 15,373 metric tons CO2e associated with its global onsite fuel use, non-U.S. electricity consumption and employee business travel in 2015. Additionally, the company purchased 13,336 megawatt-hours of Green-e® Energy Certified RECs representing 100 percent of its U.S. electricity consumption in 2015.
The commitment to offset C02e through landfill gas-to-energy/GHG destruction projects was verified through Climate Action Reserve (CAR) while the REC purchase supports the development of wind power in the U.S. Cumulatively, this reduction in Hasbro's carbon footprint is similar to taking approximately 5,040 cars off the road for one year or not using 55,667 barrels of oil.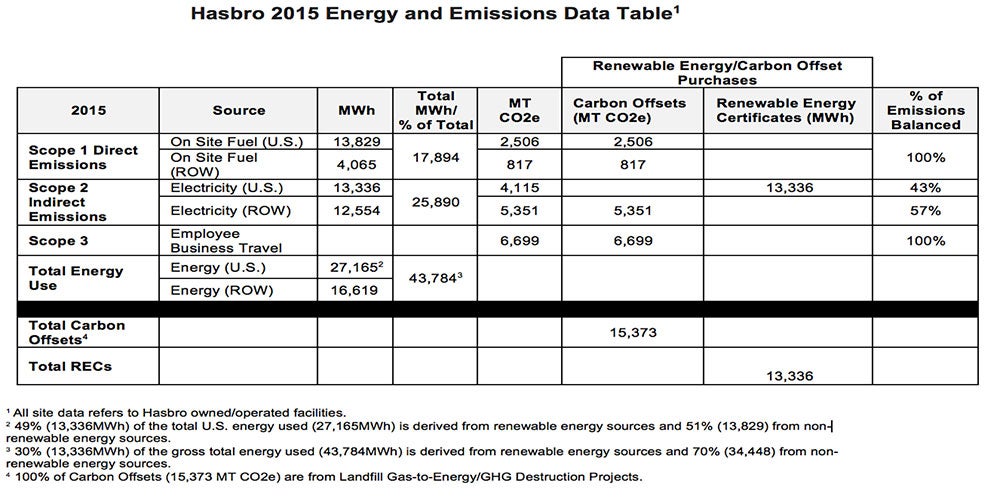 RECs are "currency" of the renewable energy market, representing all of the environmental and social attributes of renewable energy generation. Hasbro's RECs were purchased from 3Degrees Group, the nation's leading provider of comprehensive clean energy services that enable organizations and individuals to transition towards a low-carbon economy. Independent verification for the RECs purchased was provided by Green-e® Energy.
To learn more about Hasbro's CSR efforts, please visit www.hasbro.com/csr.
About Hasbro

Hasbro (NASDAQ: HAS) is a global company committed to Creating the World's Best Play Experiences by leveraging its beloved brands, including LITTLEST PET SHOP, MAGIC: THE GATHERING, MONOPOLY, MY LITTLE PONY, NERF, PLAY-DOH and TRANSFORMERS, and premier partner brands. From toys and games, television programming, motion pictures, digital gaming and consumer product licensing, Hasbro fulfills the fundamental need for play and connection with children and families around the world. The Company's Hasbro Studios and its film label, ALLSPARK PICTURES, create entertainment brand-driven storytelling across mediums, including television, film, digital and more. Through the company's commitment to corporate social responsibility, including philanthropy, Hasbro is helping to build a safe and sustainable world and to positively impact the lives of millions of children and families. Learn more at www.hasbro.com, and follow us on Twitter (@Hasbro & @HasbroNews) and Instagram (@Hasbro).