October 29, 2021
As part of our commitment to environmental responsibility, in 2020 we continued to meet our 100% renewable energy goal for global owned and operated facilities. Hasbro consumed 25,604 megawatt hours (MWh) of electricity throughout the year. To address our carbon footprint associated with this electricity consumption, Hasbro purchased Renewable Energy Certificates (RECs), which each represent one MWh of renewable energy generated on a shared grid.
To further support the generation of renewable energy, we purchased RECs to cover more than 100% of the electricity we consumed in each market where they were available. For three markets in which RECs were not available, we purchased carbon offsets to address the emissions generated by the electricity consumed at these facilities.
The RECs Hasbro purchased are from a mix of renewable resources including wind, solar, biomass, landfill gas or hydroelectric sources and are independently verified and issued by the appropriate local attribute tracking systems, including the European Energy Certificate System, I-REC Standard, and the relevant regional tracking systems. RECs issued in the US and Canada are additionally verified by an independent auditor and certified under the Green-e® Renewable Energy Standard for Canada and the United States.
We also purchase carbon offsets to match the remaining GHG emissions generated by the combustion of fuel at our owned and operated facilities, company vehicles, all employee business air travel and the remaining small amount of emissions generated by electricity consumption at our facilities in markets where RECs are not available. Carbon offsets are issued from projects or activities that result in carbon emissions avoided or reduced. Emissions reductions are quantified and verified according to scientifically supported standards. The carbon credits Hasbro purchased are verified by an independent third-party and issued under the Verified Carbon Standard (VCS), an internationally recognized voluntary carbon credit standard administered by Verra.
The details of our Renewable Energy Certificates and Carbon Offsets are included in the charts below.


Hasbro 2020 Energy and Emissions Data Tables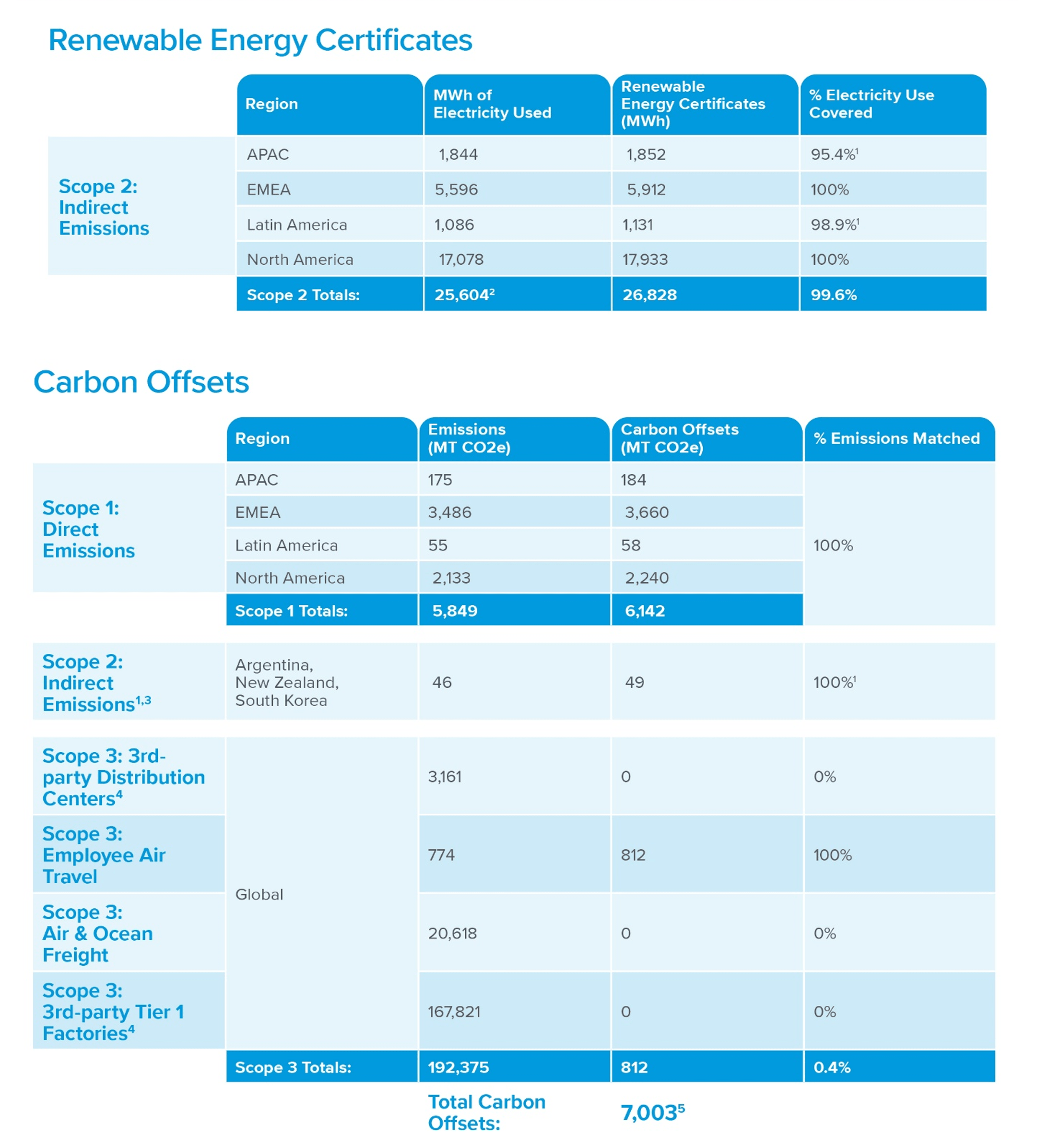 Footnotes:
1 RECs were purchased to address more than 100% of Hasbro electricity use in all markets except for Argentina, New Zealand, and South Korea, where RECs were not available. Carbon offsets were purchased to address the emissions generated by Hasbro's electricity use in these markets.
2 99.6% (25,508 MWh) of the gross total electricity used (25,604 MWh) is matched with renewable energy sources and 0.4% (96 MWh) from non-renewable energy sources.
3 0.66% (46 MT Co2e) of the total indirect emissions (6,889 MT CO2e) is matched with carbon offsets.
4 The emissions for 3rd-party distribution centers and 3rd-party Tier 1 factories were generated by electricity consumption & stationary combustion of fuel.
5 100% of Carbon Offsets (7,003 MT CO2e) are from the Hebei Guyuan County Dongxinying 199.5 MW Wind Power Project